Interprating Cronbach's Alpha SPSS Output
SPSS Statistics produces many different tables. The first important table is the Reliability Statistics table that provides the actual value for Cronbach's alpha, as shown below: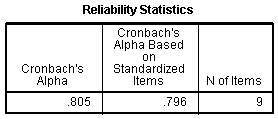 Published with written permission from SPSS Statistics, IBM Corporation.
From our example, we can see that Cronbach's alpha is 0.805, which indicates a high level of internal consistency for our scale with this specific sample.
SPSS Statistics
Item-Total Statistics
The Item-Total Statistics table presents the "Cronbach's Alpha if Item Deleted" in the final column, as shown below: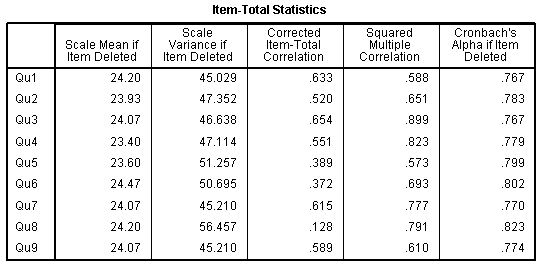 Published with written permission from SPSS Statistics, IBM Corporation.
This column presents the value that Cronbach's alpha would be if that particular item was deleted from the scale. We can see that removal of any question, except question 8, would result in a lower Cronbach's alpha. Therefore, we would not want to remove these questions. Removal of question 8 would lead to a small improvement in Cronbach's alpha, and we can also see that the "Corrected Item-Total Correlation" value was low (0.128) for this item. This might lead us to consider whether we should remove this item.
Cronbach's alpha simply provides you with an overall reliability coefficient for a set of variables (e.g., questions). If your questions reflect different underlying personal qualities (or other dimensions), for example, employee motivation and employee commitment, Cronbach's alpha will not be able to distinguish between these. In order to do this and then check their reliability (using Cronbach's alpha), you will first need to run a test such as a principal components analysis (PCA). You can learn how to carry out principal components analysis (PCA) using SPSS Statistics, as well as interpret and write up your results, in our enhanced content. You can learn more here. It is also possible to run Cronbach's alpha in Minitab.
---
[sexy_author_bio]
For customized inquiries, drop me an email below
[contact-form-7 id="65990″ title="Contact form 1″]